Our Farmers
Meet Our Farmers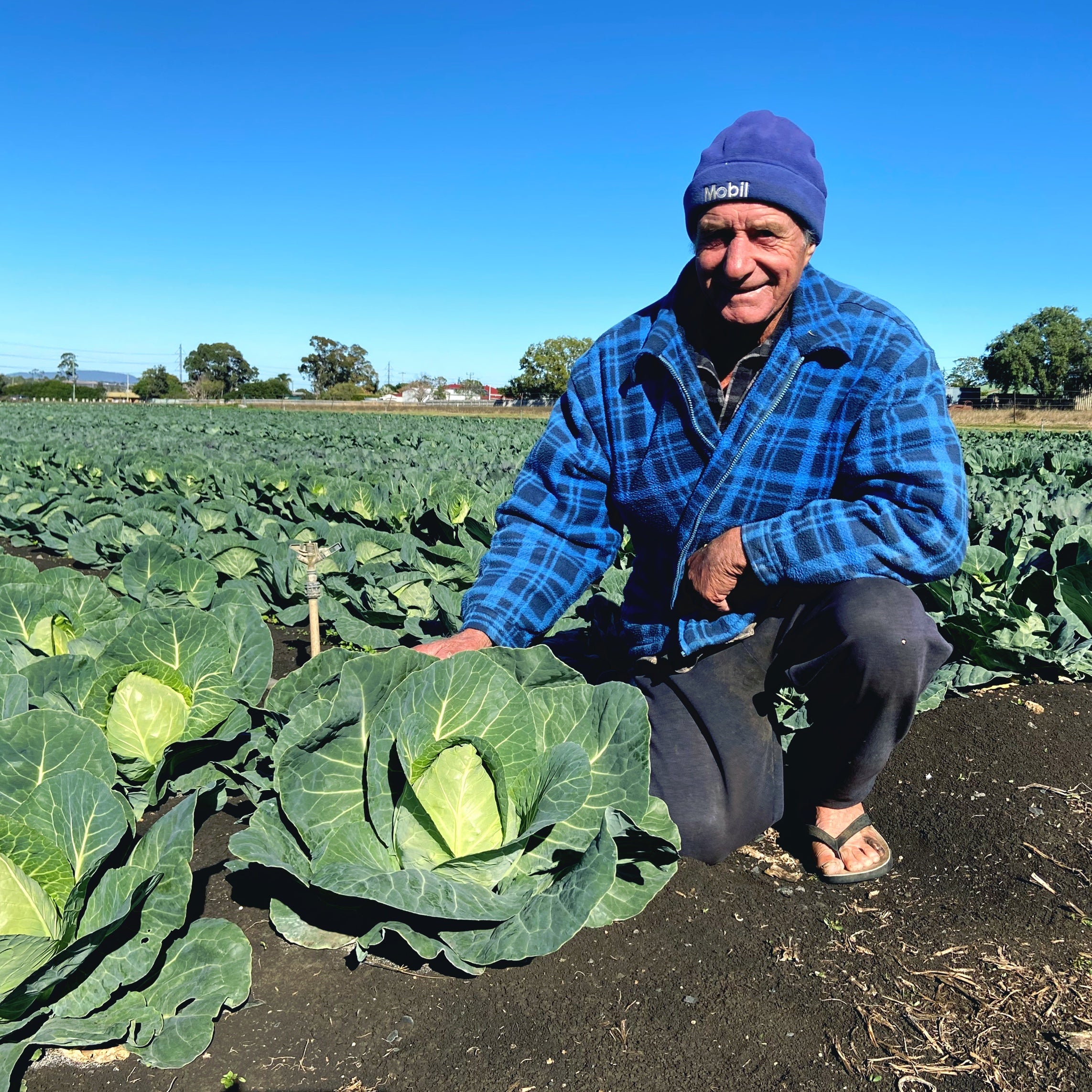 Les - Cabbage Farmer
Meet your local farmer, Les.
His farm is right on your doorstep. If you live in Westbrook then you're sure to have driven passed his colourful patch of red and green cabbages right in the center of town.
Les has been growing and supplying his cabbages locally for over 10 years.
He's been supplying The Farm Shop Toowoomba with his freshly harvested red and sugarloaf cabbages.
Support your local farmer. Know your local farmer…. And keep your farmer close!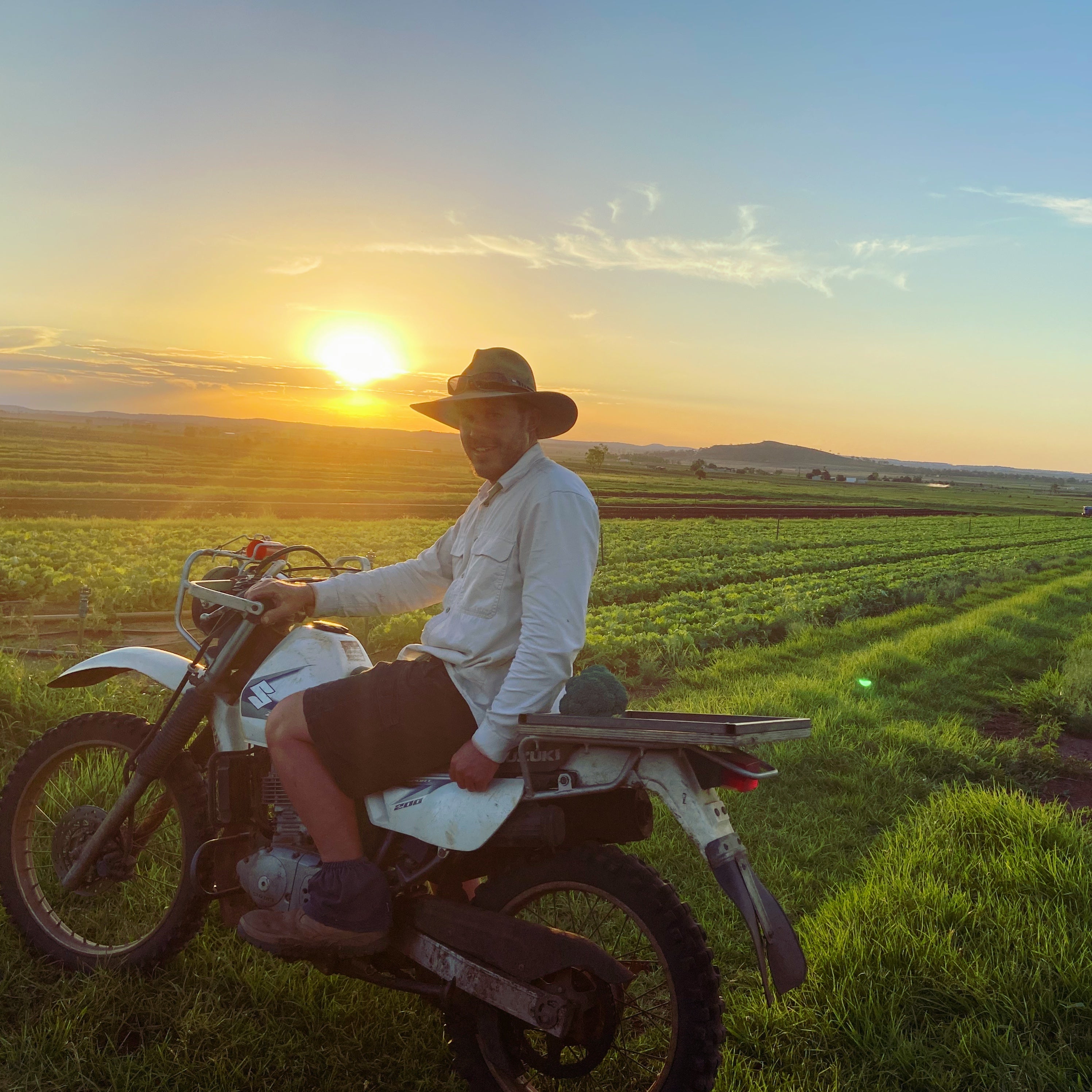 Paul Finlayson  of Finlayson Farms
Paul is responsible for the fresh-as-fresh iceberg lettuce and broccoli found within your veggie boxes at the moment. 
Paul's family have farmed their land for the passed 45 odd years. Aswel as iceberg and broccoli, the Finlayson's have also been known to grow cabbage + wombok. Their growing period is August through to early May. 
You won't find better produce or better people around! If you pop down to the shop you may even get a glimpse of Paul delivering his hand picked, mere moments before, goodies directly to us!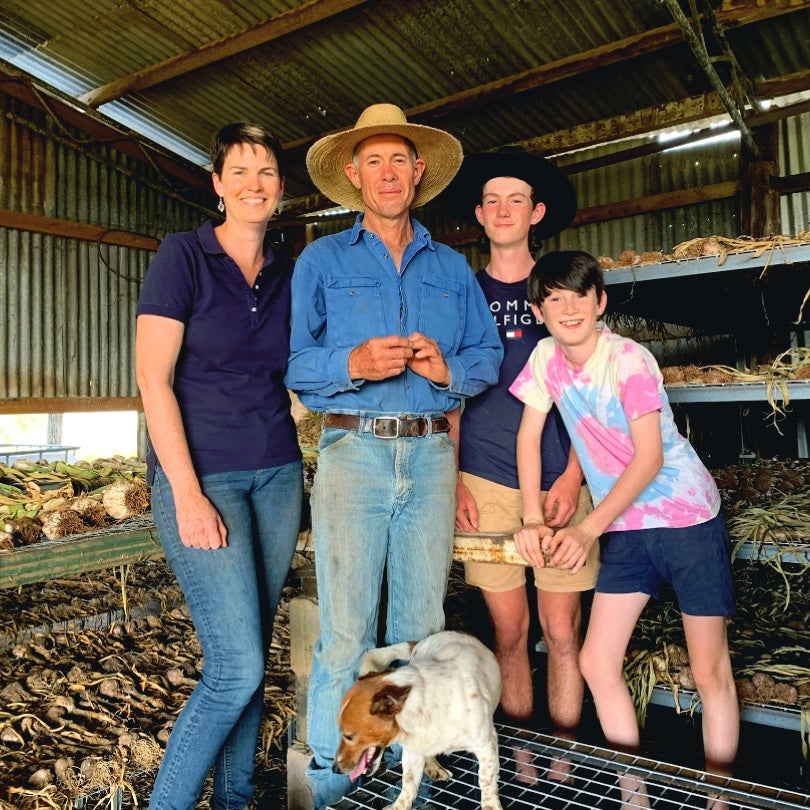 Rob + Kylie + their kids, Matt, Ben + Grea ( + crazy dog Bo!) - your local garlic farmers.
The Young family have been customers of The Farm Shop for a long time - being one of the first customers on our Friday Dalby, Kulpi run.
They started growing garlic in 2014 as a hobby which has expanded over the years. It is now part of the rotation of their far where they also hae cattle and free range pigs.
Farmer Rob is a holistic grazing consultant and Farmer Kyle is a holistic nutritionalist, so they are both passionate about growing healthy food from healthy soils.
Their garlic is not certified organic, but they are chemical free and use some biodynamic principles on the farm.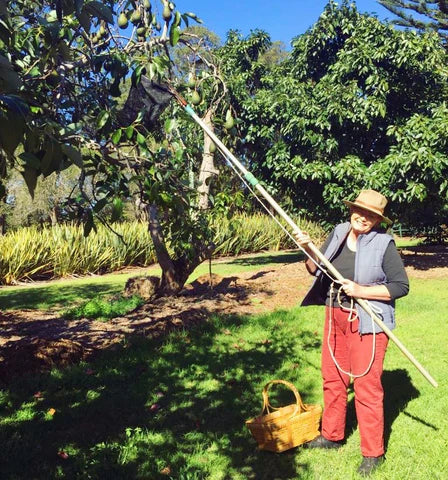 Vanessa - Avocado Farmer
Meet your local farmer, Vanessa.
Vanessa has been living on Tamborine Mountain for the past 56 years. Together with her husband Robert, they have been growing and selling Avocados since they first moved onto their 5 acre farm, 19 years ago.
Some of their Avocados have bumps and marks on them, this is due to the fact that they don't use pesticides on either the Avocados or the Trees they grow on.
Vanessa says it's the fresh mountain air and rich soil that gives the Avocados their great taste.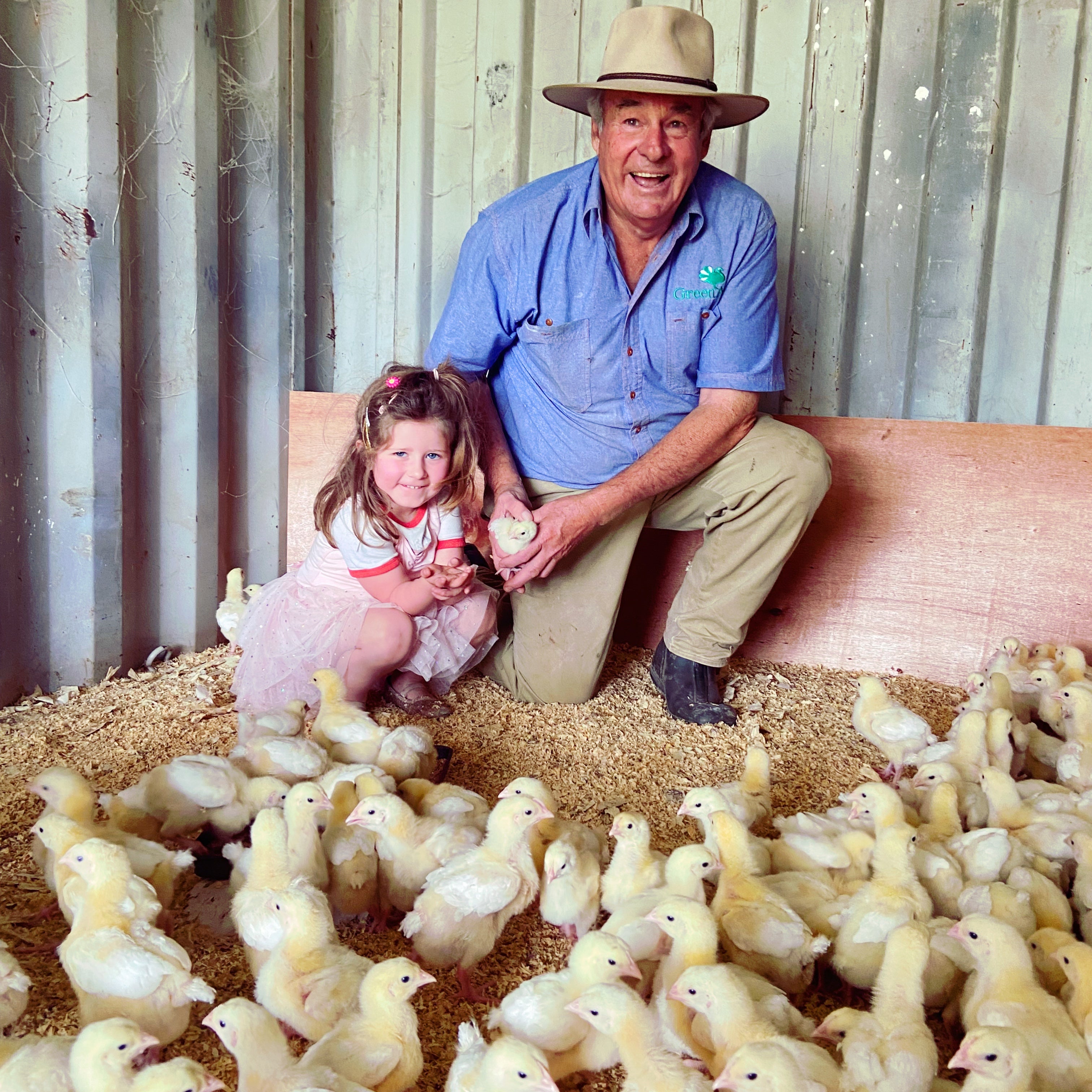 Farmer Ewart of GreenAg Organic Chicken.
Ewart has been farming at his property in Kingsthorpe since 2011, where he began the process of converting conventional farming land to organic standard.
The birds feed by fossicking amongst the grasses and are offered certified organic feed. All the birds are 100% hormone and antibiotic free.
It is Ewart's belief  that he is producing a superior product which in turn, looks after the consumer and also the land.
They run their turkeys and chickens in small groups which helps keep stress levels down.
They also have some lovely Maremma dogs that bond and protect their flock.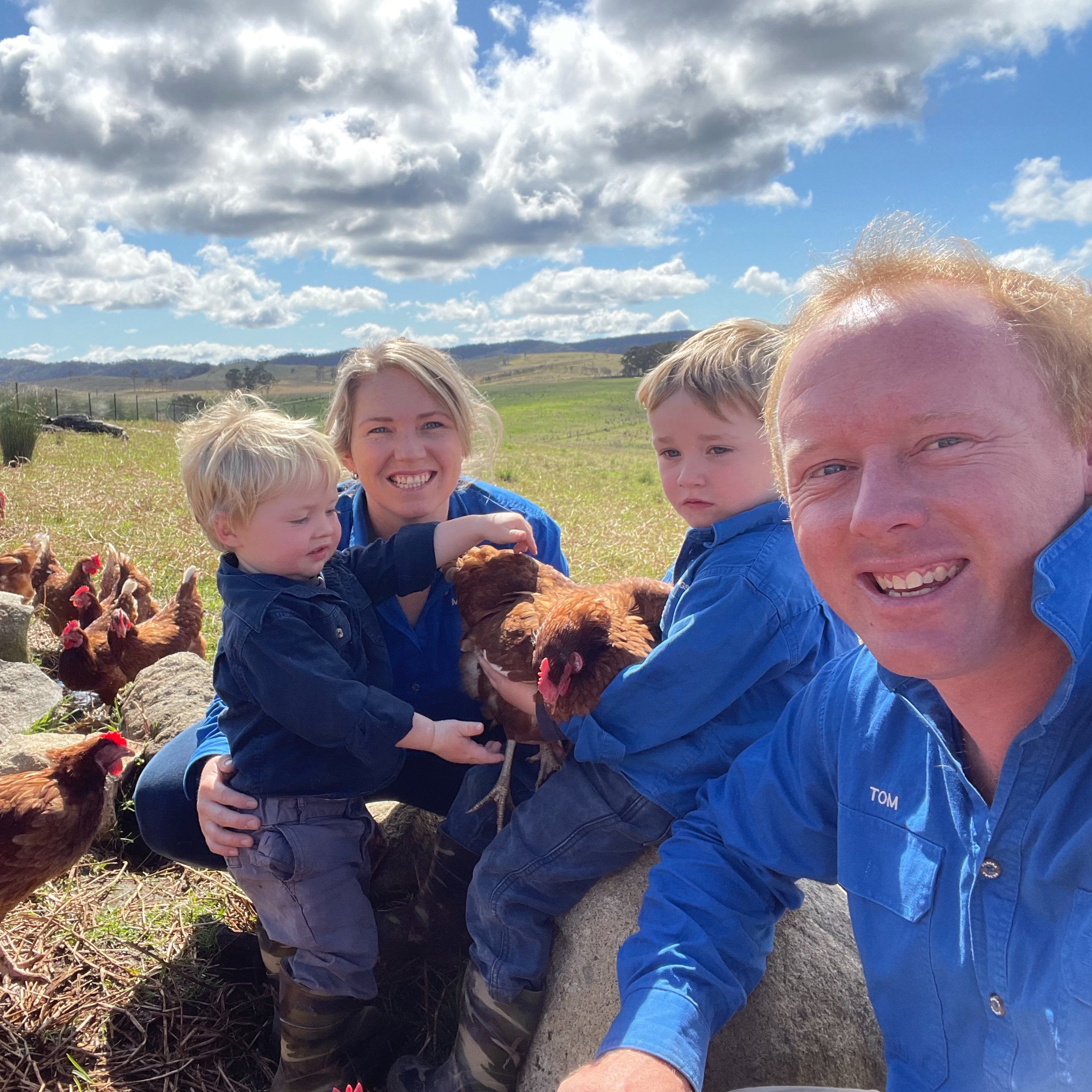 Jo, Tom, Davey and Andy of New England Free Range Eggs.
This lovely family is responsible for bringing your delicious sunny-side up eggs to your breakfast table. However you like them, you can rest assured that the NewEngland Free Range Eggs come from very happy hens who live a wonderful life sun-baking and foraging in the rolling green pastures of Tenterfield from dawn until dusk.
The hens have a maximum of 1200 ladies per hectare and are regularly rotated to maintain good soil health and regeneration.
The eggs are collected daily so they are fresh as fresh when they reach your hands. We collect the eggs each week from a midpoint, Stanthorpe, so we can guarantee minimal handling.
We love being able to directly support this wonderful business and family!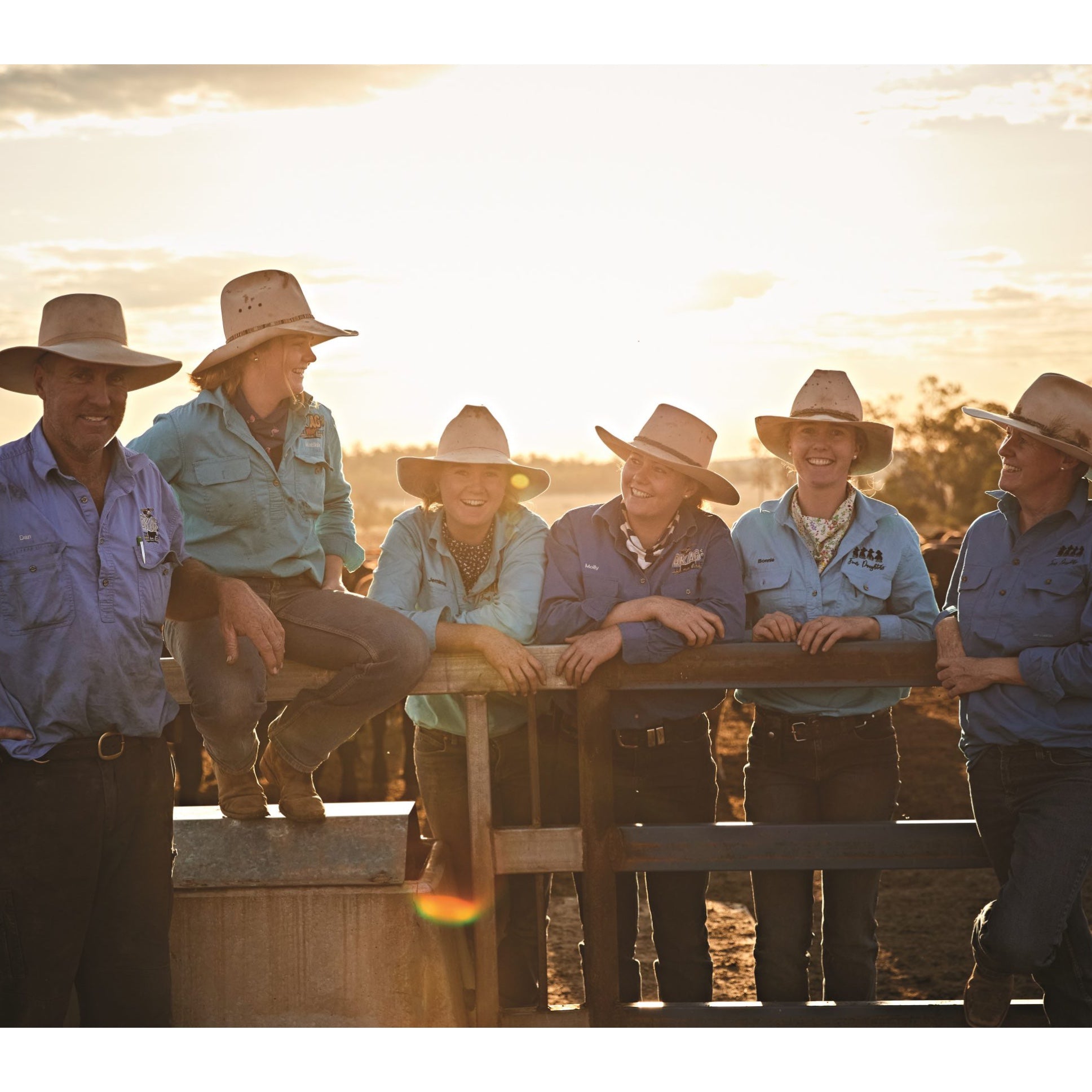 The Penfold's of Four Daughters.
Molly, Jemima, Bonnie and Matilta, with their parents Dan and Karen, run the Four Daughters enterprise. Their passion lies in ensuring that the future food production is sustainable and well looked after. With animal welfare at the top of their agenda, theyr go about their business ensuring the cattle are raised in an ethically responsible environment.
"Four Daughters is a family operated beef enterprise from Meandarra, South West Queensland. 
Our passion is to produce consistent high quality beef from our farms for you. 
We want to share our story of provenance and build our city country connections. 
We are family. We are Four Daughters Beef."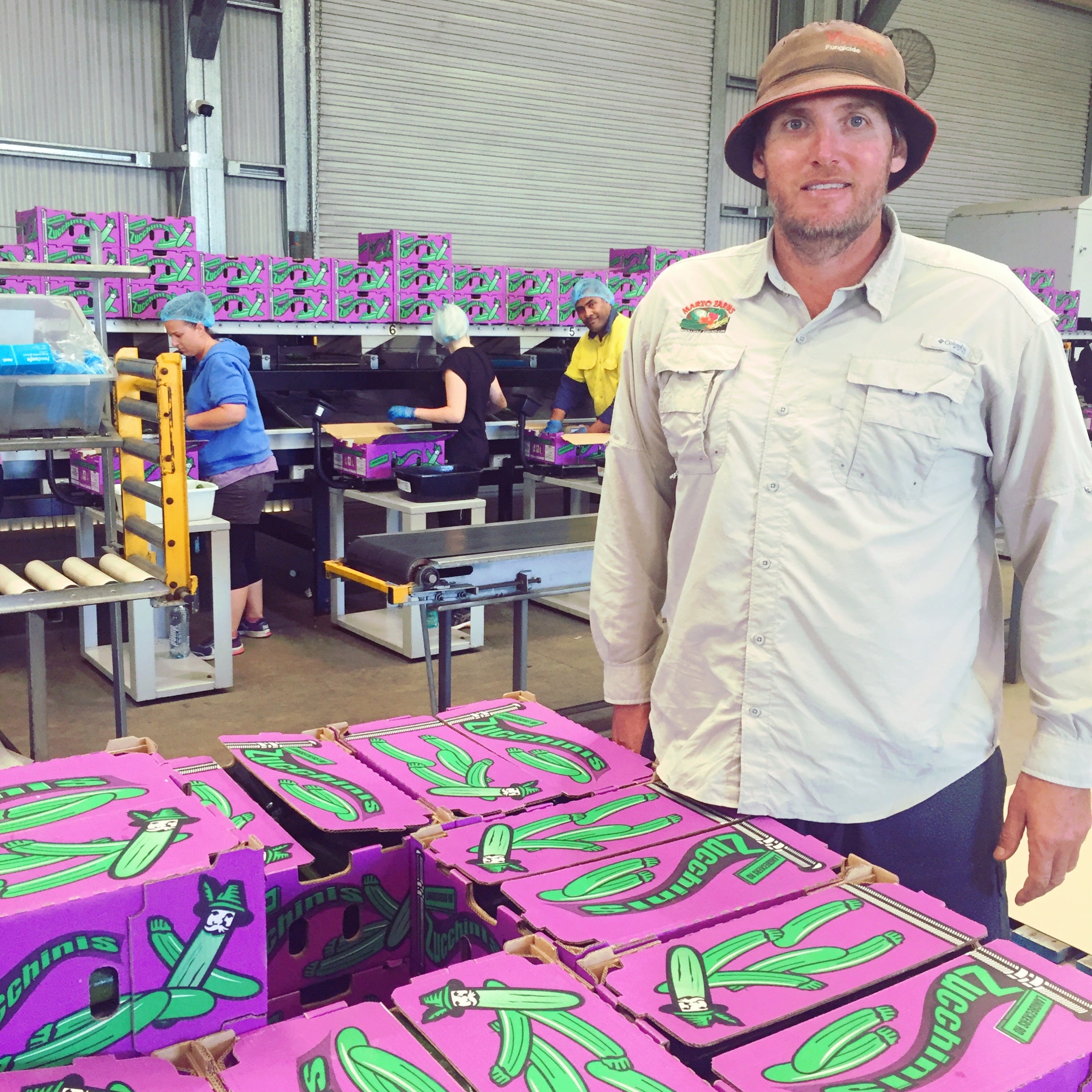 Farmer Andrew - Marto's  Farm
Farmer Andrew is an integral part of Marto's Farm, a family farming enterprise in Bundaberg, Qld. There they produce seedless watermelons, zucchini, pumpkin, capsicum, sugarcane and soon to be macadamia's. Their farm is frost-free which allows them to grow these products all year round, particularly the winter months. Andrew has been supplying The Farm Shop with his zucchini's all year round and watermelons in late Autumn + Spring.
Andrew is an innovator in his field. As an executive member of the Australian Melons Growers Association, Andrew is actively involved in developing the industry. He frequently travels overseas to search out new and interesting varieties of melons to bring to the Australian consumer.
—————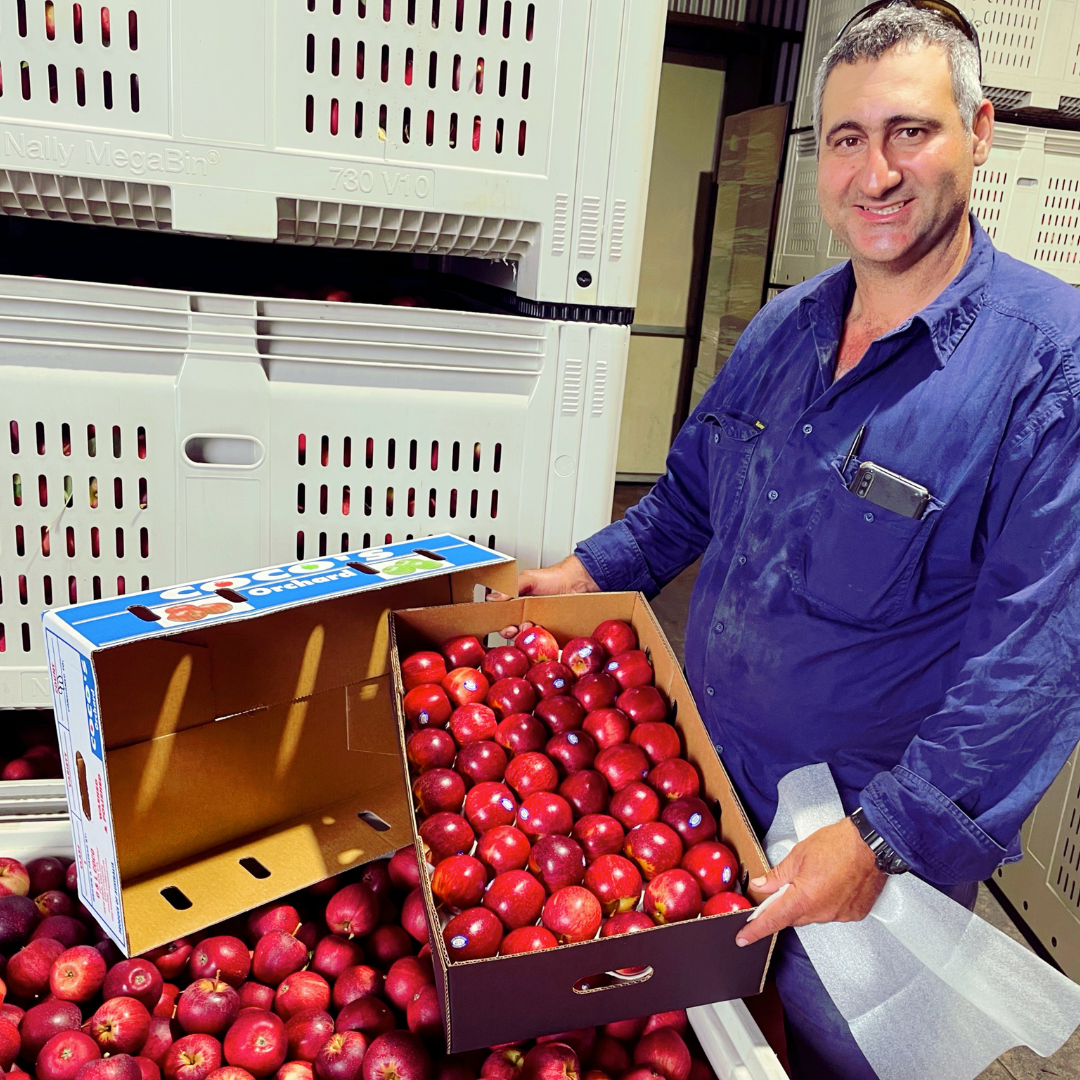 Farmer Orlando Coco of Coco's Orchard.
Farmer Olly is responsible for the extra tasty royal gala and Granny Smith apples in your veggie boxes. He grows his favourite fruit at his beautiful farm in Stanthorpe, Coco's.
If you find yourself heading to Stanthorpe make sure you stop in at his farm gate and try some of his delicious goods.
We are thrilled to be able to supply these apples freshly picked each week.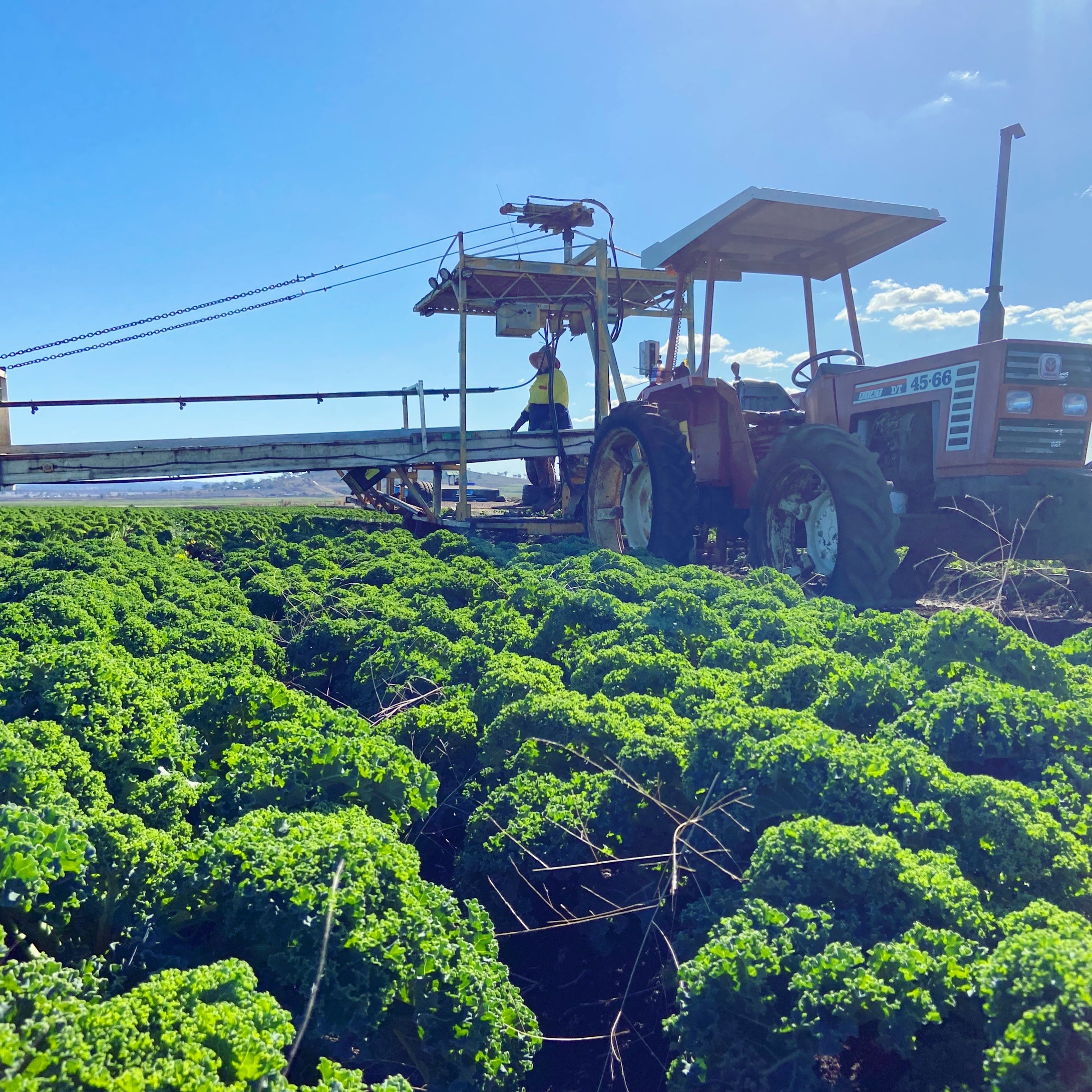 Gibb Brothers.
A mere stones throw from The Farm Shop, our trusty neighbours farm expand across 350 acres.
There they have grown celery, kale, sugarloaf, wombok, lettuce and silverbeet at export quality to Singapore for the last 7 years.
They are a very busy farm, harvesting their goods 52 weeks of the year.
They implement Integrated Pest Management to minimise use of pesticides and sprays.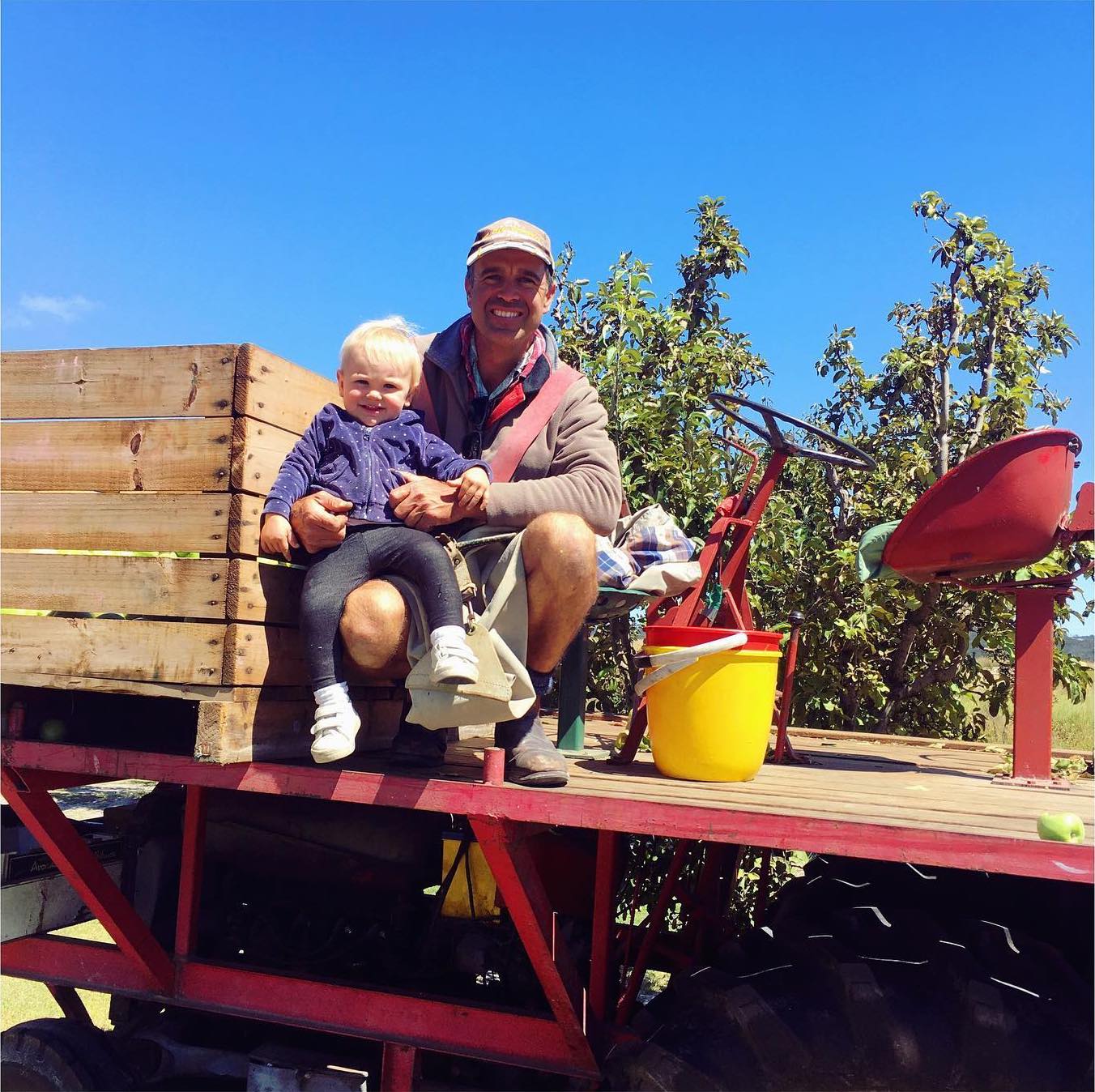 Farmer Mario of Wheel in Orchard
Mario has been supplying his organically grown (not certified) apples, pears, stone fruit and apple juice to The Farm Shop Toowoomba since we opened our doors in 2018.
Mario is a 3rd generation farmer and still works the farm his grandparents began in Stanthorpe.
We love being able to continue to directly support Mario.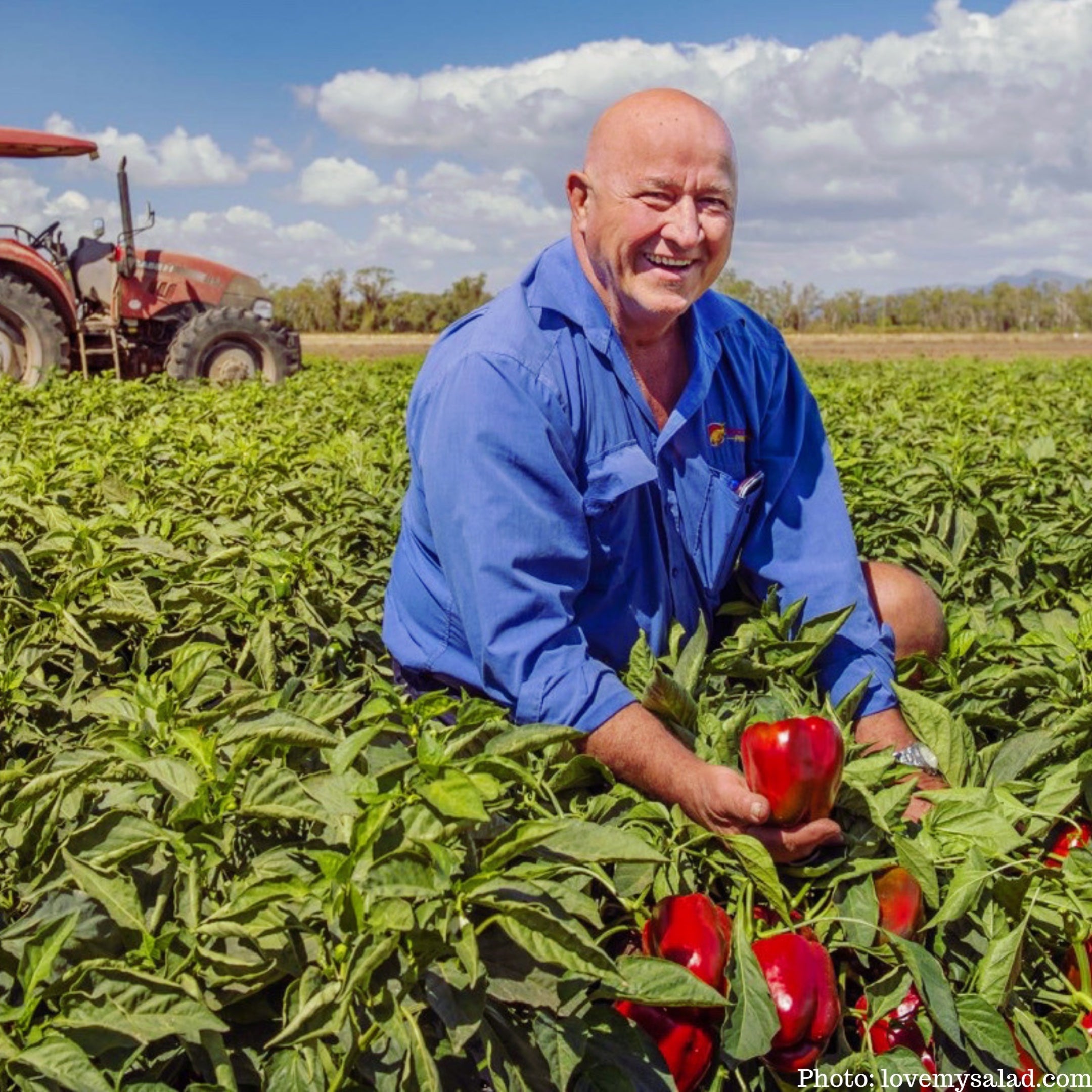 Farmer Des of Rocky Ponds Farm.
Farmer Des is the mastermind behind Rocky Ponds farm in Gumlu in North Queensland. He is responsible for the rockmelon's, honeydew's, piel de sapo's, golden honeydew's and capsicum's that you have all loved throughout Autumn, Winter and Spring. The farm is situated perfectly to target these windows as it is frost free and warm.
Des is passionate about flavour and bricks (sugar content) level to ensure customer satisfaction. He is also a passionate advocate for integrated pest management (IPM).
Des is always on the hunt for new varieties that showcase's a better eating experience for the end customers rather than focusing on large fruit sizes with minimal flavour.
During Des's off season, we plan to grow some of these high flavoured varieties here on our farm.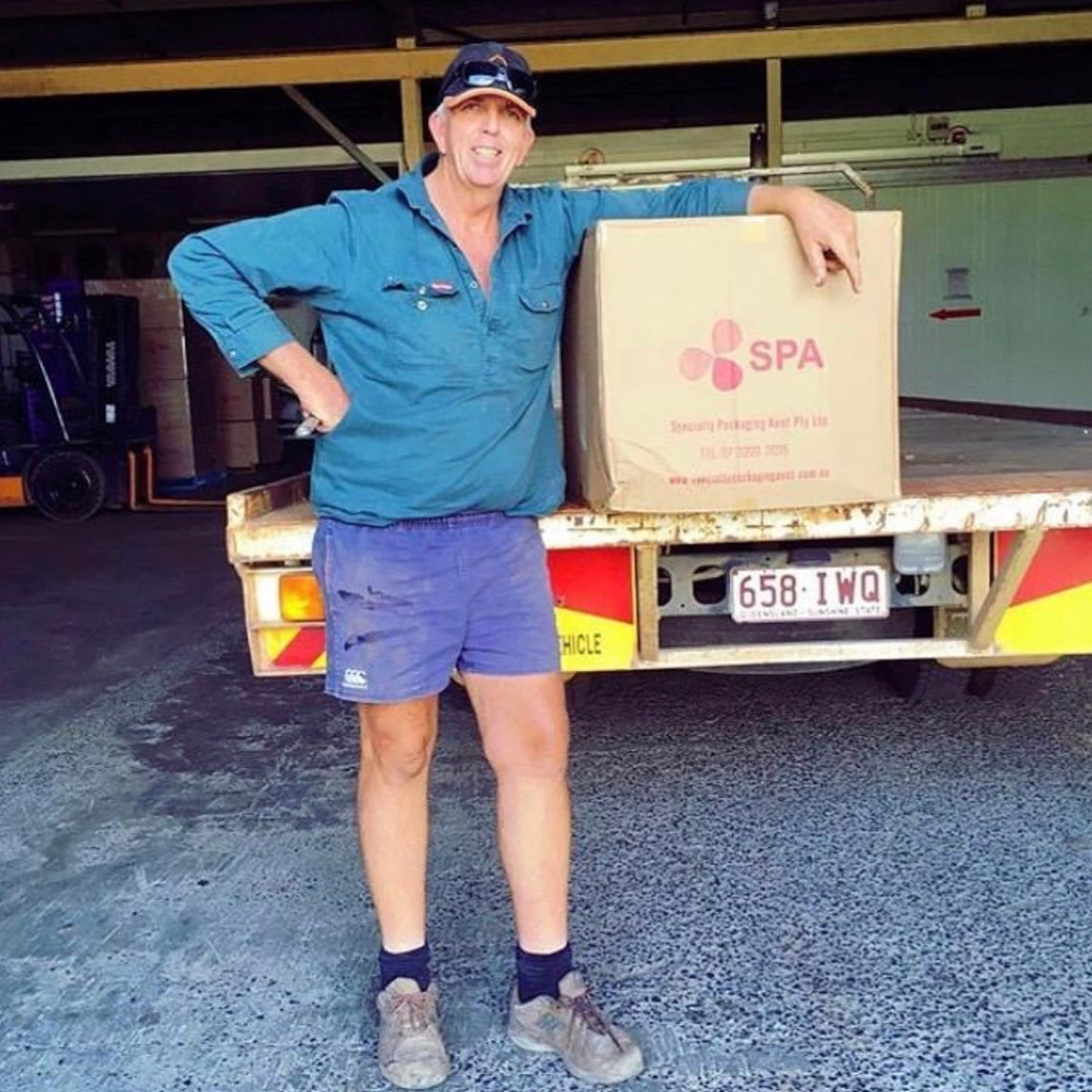 Farmer Michael Cluck of Flagstone Fresh
Michael is responsible for the oh-so-tasty cherry and gourmet tomatoes you find each week in your veggie box. His farm, Flagstone Fresh, is nestled in the beautiful hills of the Lockyer Valley in Flagstone Creek.
Michael's tomatoes taste so good and are so full of flavour because he lets them ripen on the vine.
He is a strong advocate for Integrated Pest Management (IPM) which uses good bugs to fight bad bugs!
Michael has supported our Farm Shop venture from the very get go! We are thrilled to be able to supply these tomatoes freshly picked each week.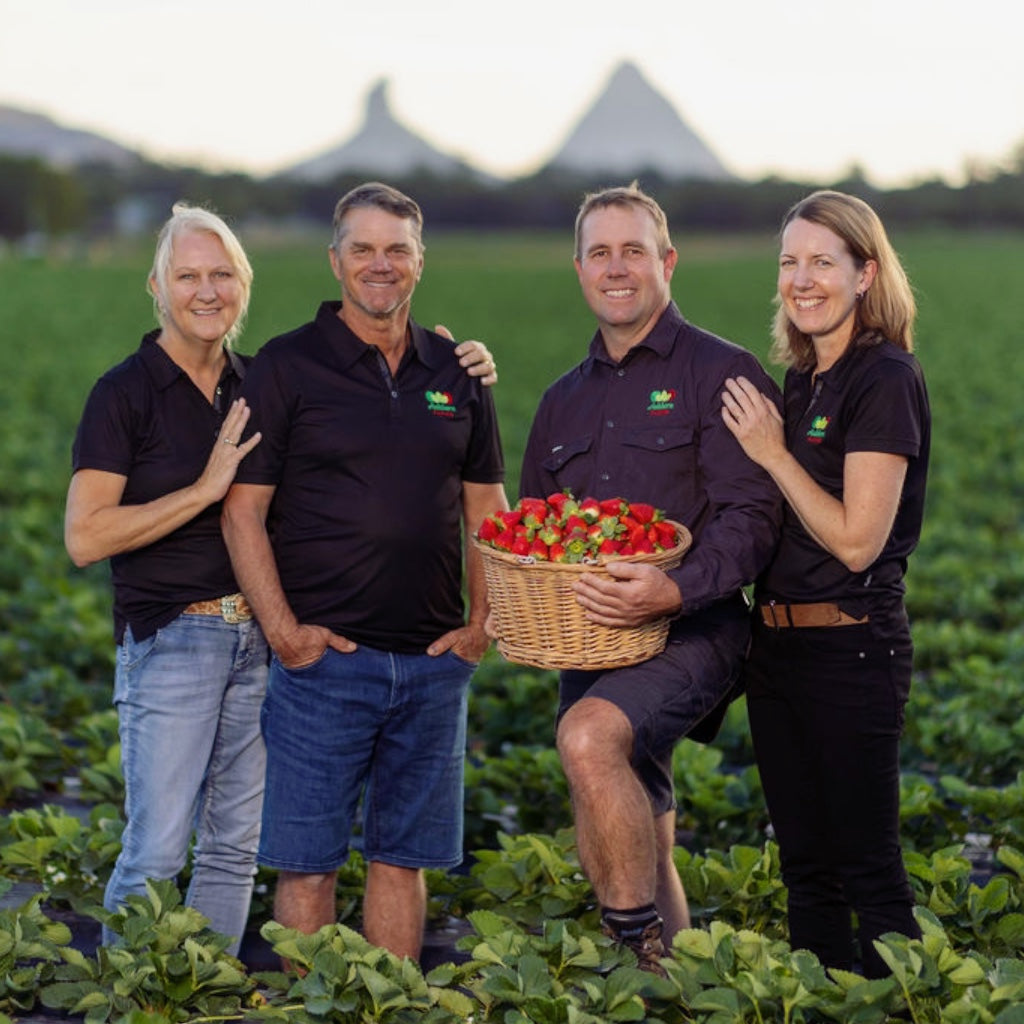 Farmers Jon, Bernie, Ash + Brendan of Ashbern Farm.
This dream team, is made up of two families who created Ashbern Farm. They is responsible for producing the most incredible, BURSTING with flavour strawberries you have ever tried grown locally in Stanthorpe!
This time of the year when Ashbern Farm is brimming with its tasty treats is always our favourite time of year. Nothing beats a freshly picked Ashbern berry.
The gang have been growing on the 10 hectare property for 9 years. They are strong supporters of the Integrated Pest Management method which minimises need for inputs.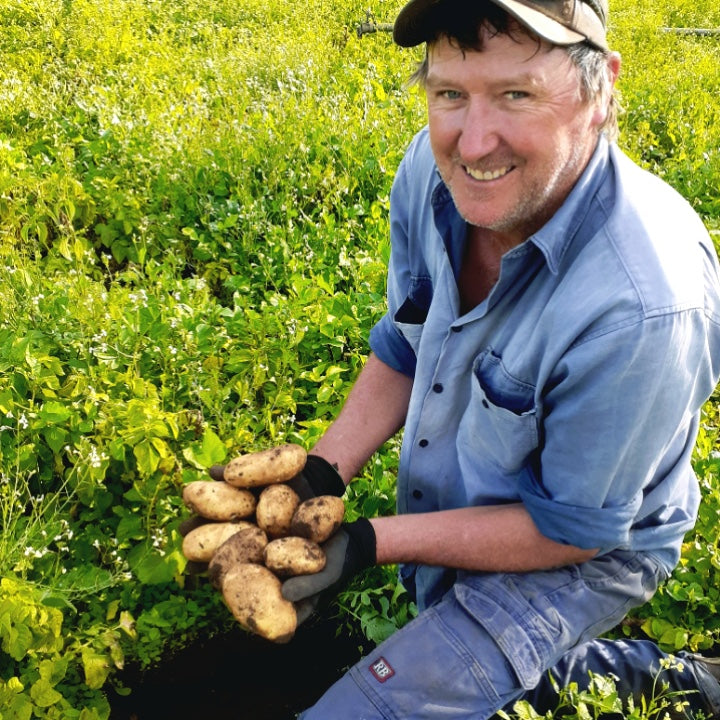 Farmer Jeff (A.K.A - Rowdy)
Jeff is our favourite certified organic farmer. His farm is located in the Lockyer Valley. He is famous for his incredible dutch cream and sebago potatoes. 
Jeff's farm is a labour of love - he does a lot of things by hand and is passionate about soil health.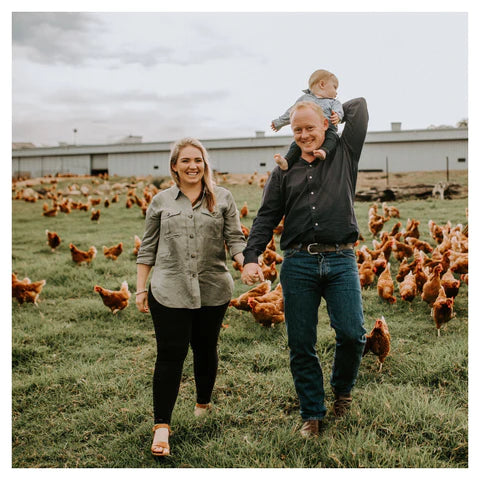 The Moore Family - Egg Farmers
Meet your local egg farmers, Jo, Tom and little Davey.
This lovely family is responsible for bringing your delicious sunny-side up eggs to your breakfast table. However you like them, you can rest assured that the NewEngland Free Range Eggs come from very happy hens who live a wonderful life sun-baking and foraging in the rolling green pastures of Tenterfield from dawn until dusk.
The hens have a maximum of 1200 ladies per hectare and are regularly rotated to maintain good soil health and regeneration.
The eggs are collected daily so they are fresh as fresh when they reach your hands. We collect the eggs each week from a midpoint, Stanthorpe, so we can guarantee minimal handling.
We love being able to directly support this wonderful business and family!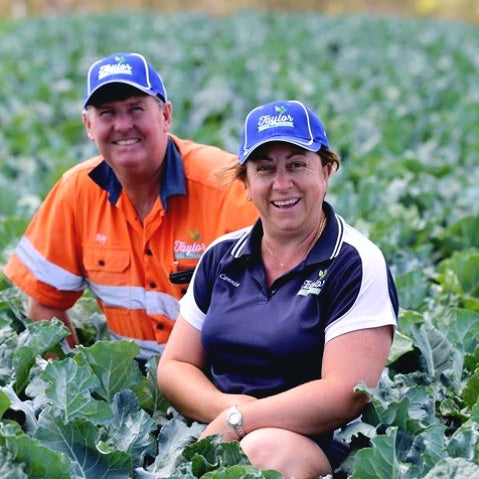 The Taylor Family of Taylor Family Farms.
The Taylor's are the masterminds behind some of the outrageously beautiful produce that you receive each week. At the moment they are supplying us with silverbeet, celery and iceberg lettuce. However, at different times of the year they supply other various goodies.
Taylor Family Produce have two beautiful farms - one nestled in amongst the fields of the Granite Belt in Amiens and the other in idilic, picturesque Redland Bay. The Taylor's have been farming land since 1933 where they began growing salad and vegetables for the military.
The Taylor's are passionate advocates for the environment and are committed to protecting the health of the soil and land for future farming generations. They implement Integrated Pest Management (IPM) to minimise the need for pesticides. They have various systems in place to minimise water wastage. They use modern equipment to be as fuel efficient as possible to produce fewer gas emissions. They use certified organic compost manure to promote good soil health.
Besides all they do for the environment, The Taylor's are just all round great people!!! They have supported our little venture since the beginning. Even helping us out during the pandemic months when we were in desperate need for styrofoam boxes to pack your goodies into.
So a BIG thank you to The Taylors. You are GREAT farmers and even better people!!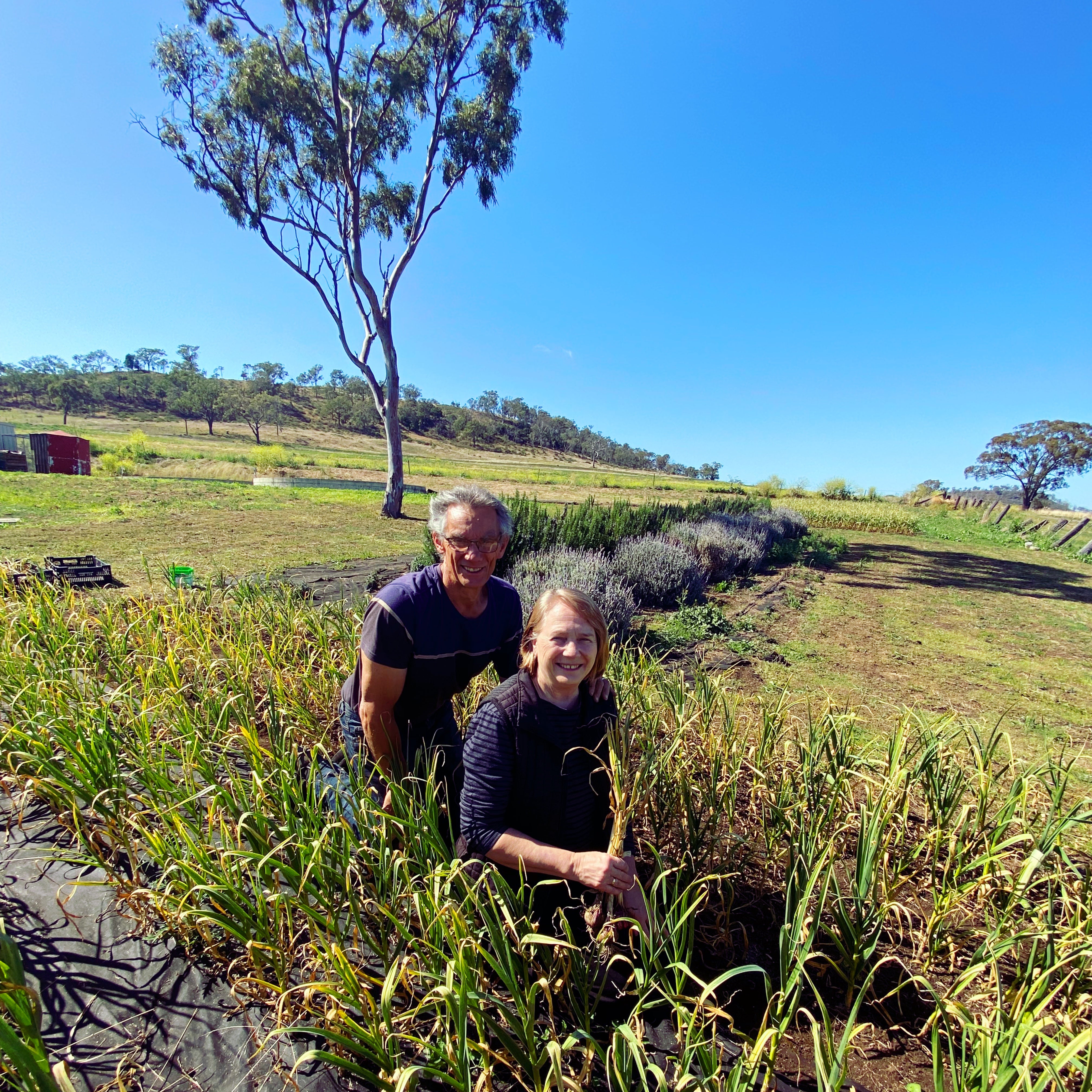 Farmers Joan and Rod of Budget Garlic and Herb
Joan and Rod are the masterminds behind the local favourite, Budgee Garlic & Herbs. 
I was lucky enough to go and Visit them at their East Greenmount farm and boy-oh-boy what a slice of paradise. Fresh air, peaceful and beautiful views - I just wanted to pull up a stump and enjoy a nice cup of tea.. potentially all day long!! 
They have owned their little utopia (only 20minutes from town) for 15 years, with the plans of building their dream home there to enjoy the serenity that is just so abundant. In the meantime they have transformed part of the land into a very successful and popular kitchen essential. 
They grow all of their own garlic and herbs organically without any chemicals. Which in itself is a labour of love! 
Walking around their farm tasting all of the different herbs really reminded me how incredible Mother Nature is at designing the most wonderful and powerful flavours.
Joan spends hours upon hours playing with and inventing new and incredible flavour combinations that will knock the socks off you. 
They process and package everything themselves. 
Joan + Rod specialise in all things flavour!!! Whether you love the hit of the marinated garlic or the sprinkle of herbal salts- you are enjoying a product that has been lovingly curated from homegrown organic ingredients made with a passion and zest for what they do!
Thank you Joan and Rod for being master craftsman and dreaming of these flavour bombs!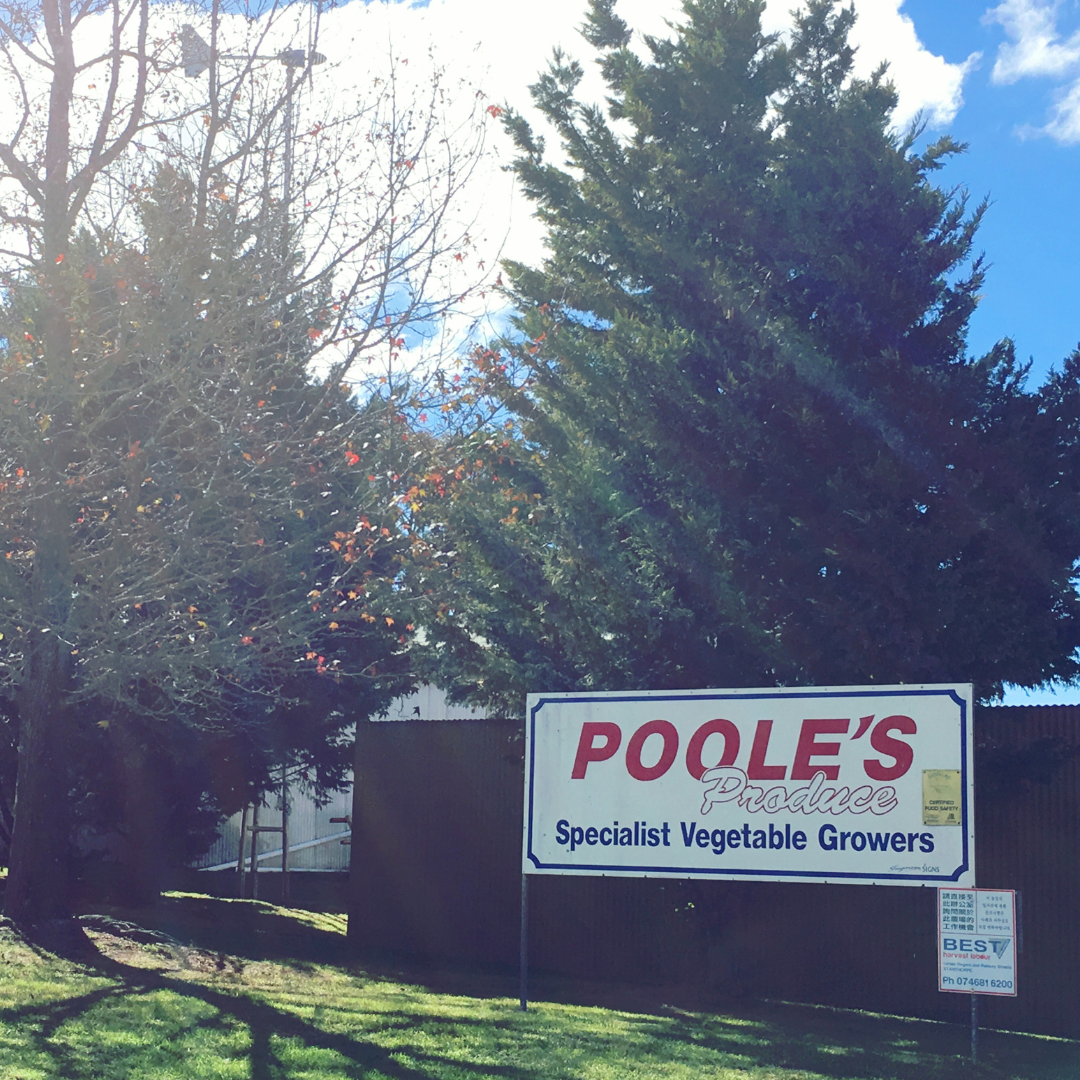 Farmers Chris and Nick of Pooles Family Produce
Chris and Nick Poole have been supporting and supplying us here at The Farm Shop for many many years. We pick up the baby spinach the day of harvest (sometimes even beating the truck back from the fields).
The spinach you receive is essentially untouched. They don't wash it in any sterilising agents, like most other baby spinach you can purchase, as that makes the product taste like chlorine and starts the break down process so they just don't last as long. Because you're getting the spinach directly (literally) from the fields, you may find little remnants of the fine land of Stanthorpe within your bag, that's why we suggest rinsing before eating.
And during this rainy season sometimes they have to harvest when the spinach is wet. We don't dry the leaves in a centrifuge as that destroys the integrity of the leaf. We suggest taking it out of its bag, giving it a good pat down with some paper towel and storing in a dry bag in the fridge. That will help your product last for much longer.But these tips aside, at least you know you are receiving a fresh and fresh can be product and you are directly supporting some amazing farmers!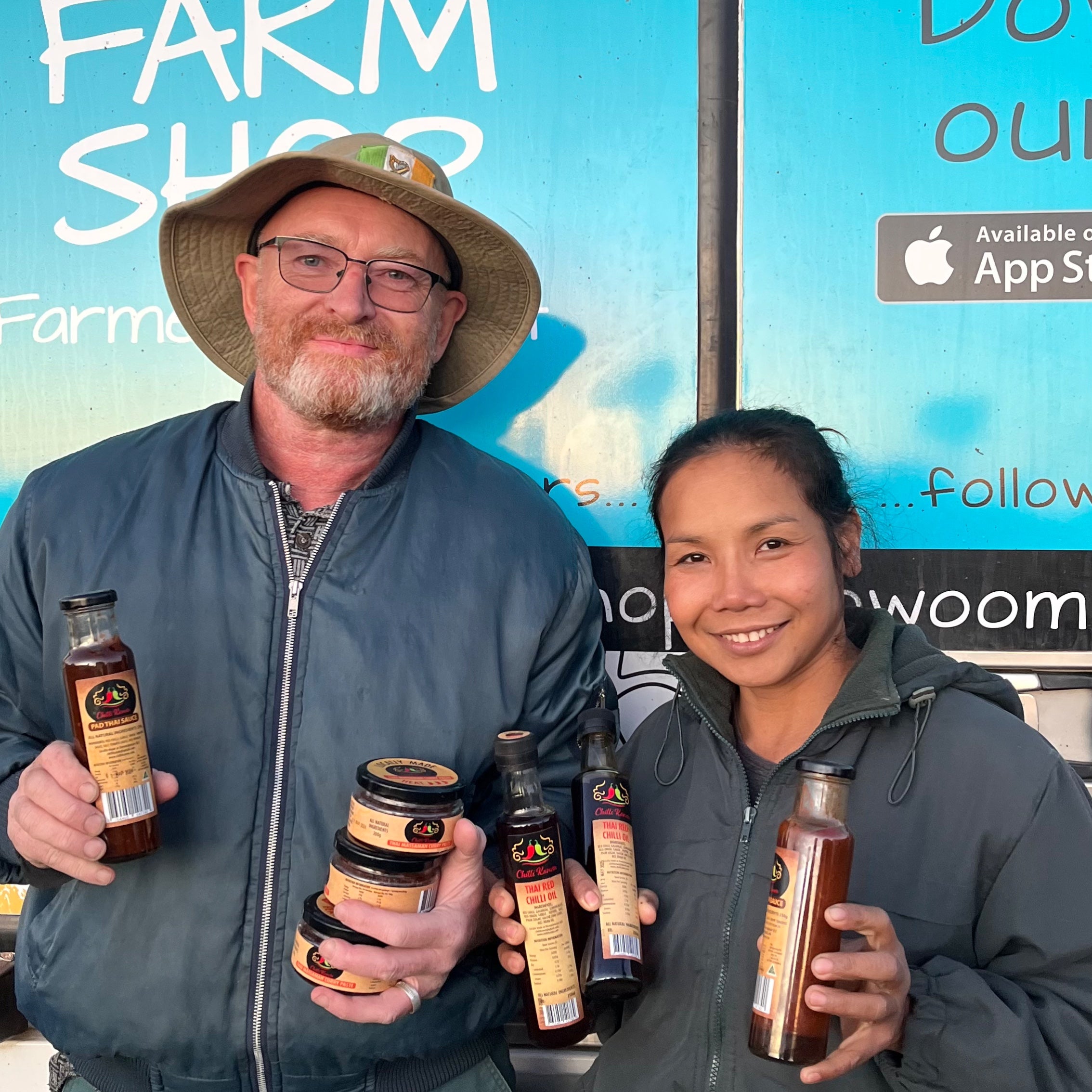 Kanon and Jim of Chilli Kanon.
We were lucky enough to meet these two wonderful people by chance when they came to collect something we have sold to them on marketplace.
There we got to talking about this incredible business they have. Kanon Came to Australia 8 years ago from Phuket, where we ran her own beach side restaurant. She now resides in Hodgson Vale with Irishman Jim and they have turned their small acreage into an eden for Thai inspired cooking.
Kanon is a strong believer in chemical free farming and uses soft a + natural alternatives to tend to her farm.
"I use white vinegar and chilli water to spray the plants with and keep them healthy of bugs; and I plant marigolds next to the cucumbers, melons, potato, lettuce, pumpkins and tomatoes because the bugs don't like the smell."
Kanon produces almost every ingredient that makes it into her curry pastes and sauces. They process it, cook it and package it all from their Hodgson Vale home.We are so lucky to be able to off their amazing flavour journey to you now online or in store.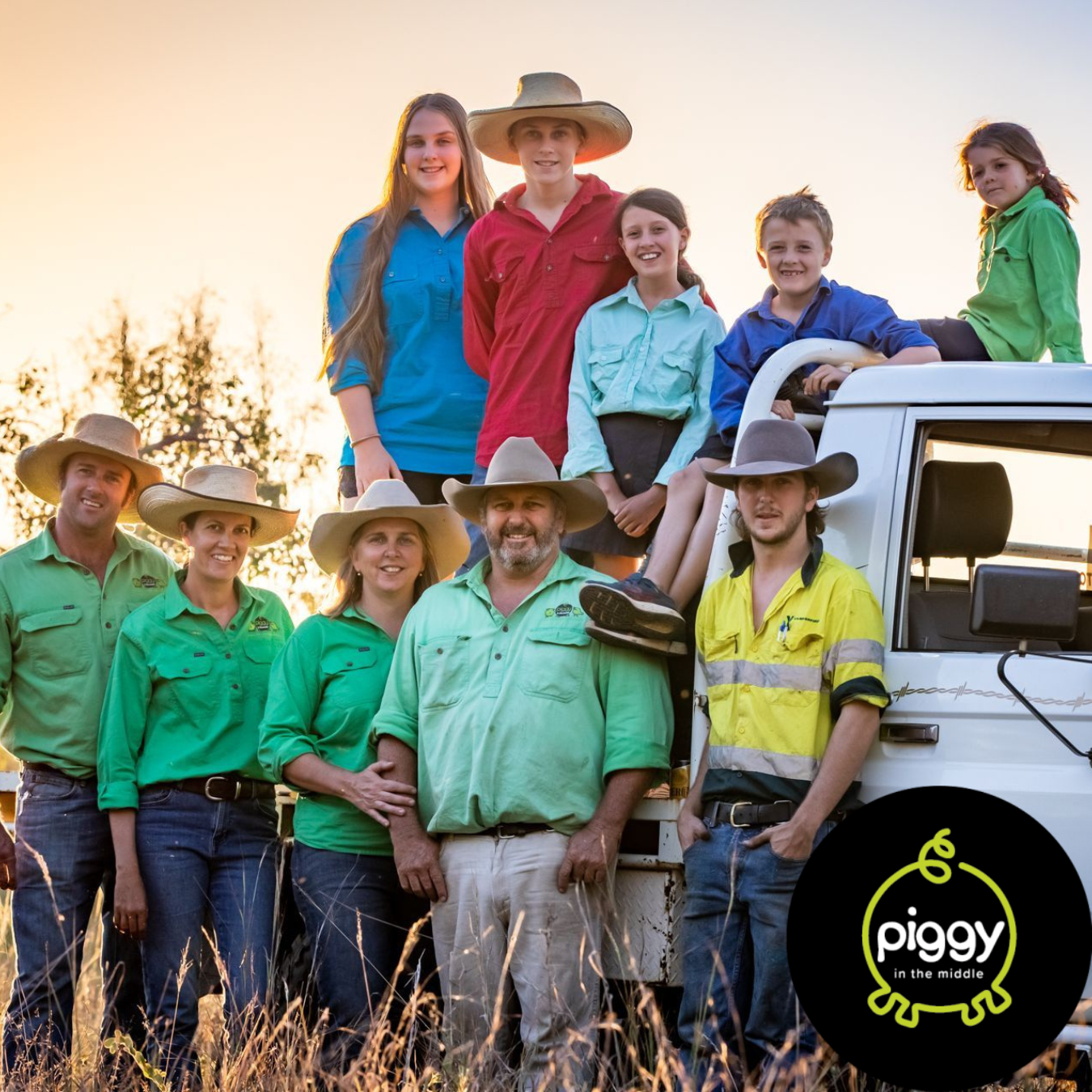 Mason, Dean, Krystal, Kate and their children of Piggy in The Middle.
Mason and Dean come from a long generation of farmers. Along with their knowledge, they inherited a love for the country and its animals.
Mason and Kystal's passion for the land and their cattle led them to explore the concept of holistic grazing methods. Where Dean and Kate's passion lies behind producing a healthier style of meat. One that is chemical, nitrate and gluten free.
"Our free ranging pigs, chickens and sheep are raised on pasture, as all animals once were. This means they are constantly moving to fresh, open ground, where they have the space and freedom to exhibit their natural instincts. Free from the stress created by overcrowding and un-natural habitats. The rotational farming methods we employ allows us to be chemical free and our produce to be pure, healthy and happy. Our animals are moved around the farms grazing natural pasture, followed by our chickens who scratch, aerate and fertilise the land, gobbling up any parasites left behind.  Because we rear our animals this way we do not need to use chemicals, hormones, antibiotics or pesticides."
Piggy in the Middle is a true representation of ethical and sustainable family farming.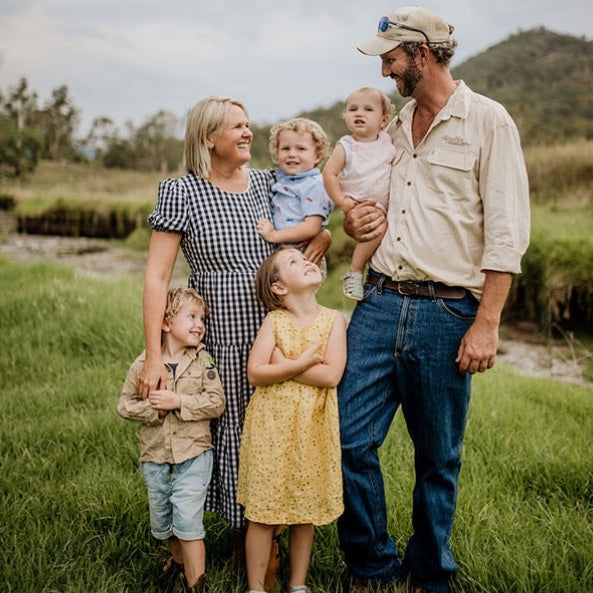 James + Jacinta (& 4 very cute littlies) of Lazy Cow Farm.
Lazy cow farm was established in 2013 and sits in the picturesque Goomburra Valley.  Their ethically raised livestock live a happy and peaceful life meandering amongst the foothills of the property grazing on native and improved pastures. The livestock are free to graze at their leisure and by using low stress handling techniques their animals live a contented life with free access to food, water and shelter. 
At Lazy Cow Farm they pride themselves on producing prime live stock. They use rotational paddock grazing; all their animals are stress free, hormone free and pasture raised on open paddocks. This handling approach ensures the highest quality product. The livestock are humanly transported to the local abattoir 30 mins away to reduce stress on the animal and processed by a local butcher to support their "live local eat local" philosophy. Keeping it local ensures that they are able to oversee the whole process from their farm gate to your front door. 
Their story:
The Lazy Cow Farm story began in late 2013 when James + Jacinta purchased a 200 acre block in Goomburra Valley as a place to begin their lives together and fulfil their long-time dream of owning their own farm and starting a family. They began by hand rearing heifer calves who soon became family members and their breeding herd. Later came the introduction of sheep, pigs and pastured chickens to our farm as they saw the benefits of diversity in livestock pastures and the environment.
 As the farm grew so did their own family. Now more than ever, with four small children, they are committed to maintaining an ethically sustainable lifestyle and appreciating the importance of knowing where your food comes from and the care that is taken to ensure the health and wellbeing of all animals. Which in turn supports the health and wellbeing of their family and yours.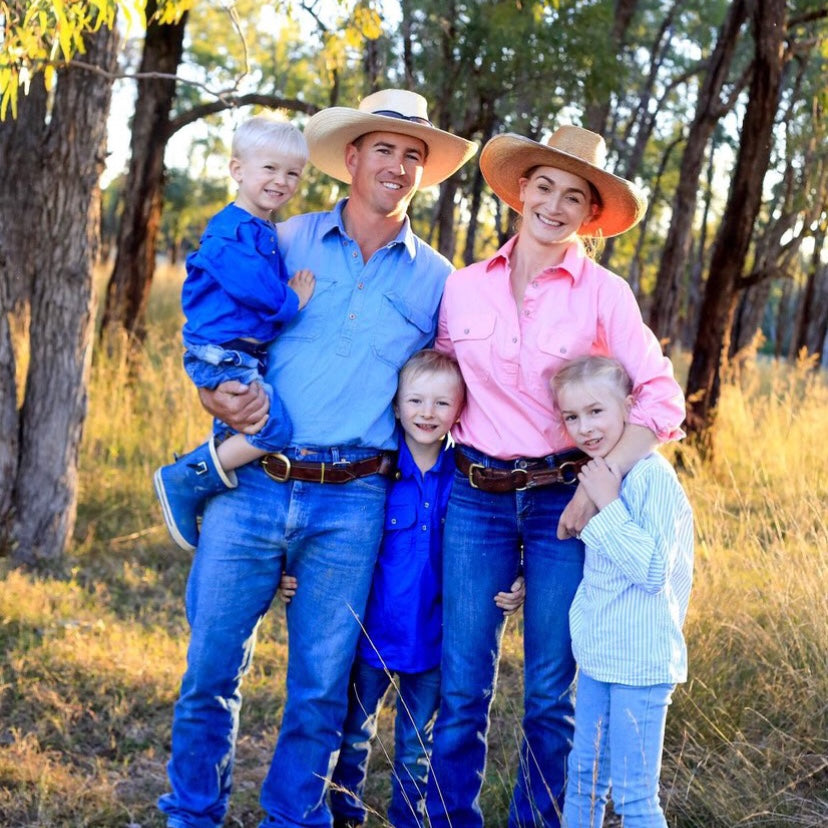 Sophie, Adrian, Dusty, Ned & Banjo of Macintyre Brook Lamb.
This lovely family are the farmers behind Macintyre Brook Lamb - Ethically produced Australian lamb.
"Macintyre Brook Lamb is the culmination of four of our passions: our family, the land, our livestock and quality food. It's a labour of love, although the kids might not always agree with this, especially when they are covered in dust from a long day working in the sheep yards."
The McInnerney's breed Australian White sheep, a breed renowned for its unique eating qualities, on their beautiful riverside property Bellhaven Brook near Goondiwindi on the Darling Downs. 
The lambs spend their days grazing with their mothers on native pastures. The flock are treated with respect + in a calm and gentle manner. This minimises any stress on the animal.
Regeneration of the soil is a key focus on their property and the McInnerney's believe this is what makes their lamb so good. Their philosophy is healthier plants, equates to healthier animals that produce a more nutritious product and this ultimately leads to a healthier consumer. 
By purchasing Macintyre Brook Lamb, you are genuinely supporting a family owned and operated farming business who is dedicated towards the regeneration of their land, the protection of the natural environment and the production of delicious and nutritious food. .